Take me to the cloud - Ford CEO Alan Mulally leaves for Google's Board of Directors
7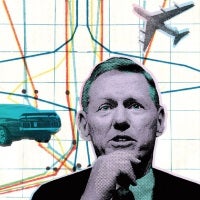 Alan Mulally, the president and CEO of Ford Motor Company
made headlines
in the technological press as he ran for CEO at Microsoft following Steve Ballmer's retirement. Ultimately, it was Satya Nadella who won the drag race, but Mulally was pretty content with remaining at Ford anyway. Or was he? From July 9, 2014, his resume no longer reads "CEO, Ford". It reads "member, Google Board of Directors". That's right - Mulally has left Ford to serve Google's Audit Committee.
"I am so pleased that Alan is now joining Google's board!"
- exclaimed Google CEO Larry Page.
"I look forward to working together with the Google board and management team to continue to deliver their compelling vision."
- reflected Mulally. Talk about keeping it professional.
Spending the better part of the last eight years shifting Ford through the gears of the auto industry, Mr. Mulally previously held three executive positions at Boeing and sat on the advisory boards of NASA, the University of Washington and University of Kansas, MIT, and the US Air Force Scientific Advisory Board. He's also a member of the US National Academy of Engineering and a fellow of England's Royal Academy of Engineering. It's safe to say that Alan Mulally did his Bachelor's in aeronautical and astronautical engineering and Master's in Management justice.
So, what will Mulally bring to Google's table? Given his new position, he was mostly hired for his management expertise, but who knows what one could accomplish at Google with a Bachelor's in astronautics...
source:
Google Press