Tablet sales to reach almost 60 million, ARM CEO dismisses Intel threat
1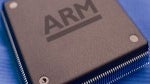 Things are heating up in the tablet market. This is not surprising at all, especially as Warren East, ARM's CEO, said in a recent interview that tablet sales can reach about 60 million units in 2011, while at the same time dismissing Intel's ambition to establish itself in the tab market.
As things stand at present, the ARM-based processors are the leaders in the tablet business. That's not much of a shock, given the fact that not only
the tablet which has 95% share
of all tab sales –
the iPad
– uses ARM's Cortex-A8 processor, but also the same applies for its biggest rival – the infant
Samsung Galaxy Tab.
According to Warren East, Intel is not a real competitor for the foreseeable future, because:
"Atom designs are just not good enough in terms of power consumption [right now]. Intel knows this."
East's calculation that sales may reach the 60 million mark next year is on par with the industry tracker Gartner's research on the same topic, which predicted 54.6 million tablet sales next year. Minding the fact that HP, RIM and Viewsonic, among others, have officially announced that they will create their own tablets, the tab landscape is sure to change in the next few years.
source:
AppleInsider
Recommended Stories