T-Mobile's Extended Range LTE now available in Boston; is it used inside the 'Green Monster?'
5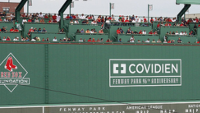 Good news for T-Mobile subscribers in the Boston area. T-Mobile's low-frequency
Extended Range LTE
Service is now available in that market. Using 700MHz airwaves, the Extended Range LTE service travels farther and penetrates buildings better than higher frequency spectrum. Who knows? Perhaps T-Mobile's Extended Range LTE service (also known as Band 12) even provides service to the scorekeepers who work inside the Green Monster at Fenway Park.
T-Mobile, once signal shamed by the competition, and by customers of rival carriers, now reaches as many Americans with its LTE signal as Verizon does. Both offer LTE service to about 308 million Americans.
To be more precise about Extended Range LTE, it travels twice as far as higher frequency spectrum, and penetrates buildings four times deeper. T-Mobile is looking to pick up additional low-frequency spectrum during the FCC's auction of 600MHz spectrum. The nation's third largest carrier is said
to have budgeted as much as $8 billion to bid on spectrum
being auctioned off. It will be competing with Verizon, AT&T, Comcast, Dish Network and others. Sprint has already announced
that it is sitting out this auction
.
T-Mobile is planning on using any spectrum it wins at auction to expand its Extended Range LTE coverage. It also hopes to increase the capacity of the spectrum in certain areas with the use of carrier aggregation.
source:
T-Mobile