T-Mobile retail stores to offer every phone for free this Saturday
3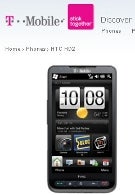 Freebies? We like! T-Mobile
just confirmed the rumor
on its Father's Day idea – instead of the boring tie your Papa gets each third Sunday of June, how about he gets what he really (and secretly) wants?
Each and every retail T-Mobile store across the country will be charging nothing for whatever phone you choose just this Saturday. Yes, that includes the myTouch 3G Slide, the HTC HD2, and the Garminfone as well. Given that the last two cost $199, it's definitely worth the sleep deprivation to be at a T-Mobile store starting 8am on June 19th, before supplies run out.
So, what do you think, is it worth starting a new family plan, or adding a new line to the existing one to take advantage of the sweet offer? Bear in mind Dad will still be contract-bound for the full two years, so you'd better grab the best out there (or in there, as is the case).
HTC HD2 T-Mobile Specifications
|
Review
myTouch 3G Slide Specifications
Garmin-Asus Garminfone Specifications
source: T-Mobile