T-Mobile launches HSPA+ 42 in 47 more cities
7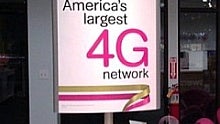 Good news from T-Mobile seems so strange when we consider the AT&T buyout. What happens to these great network improvements? Oh well. We'll deal with that next year. In the meantime, let's enjoy the small victories:
T-Mobile has launched their
42Mbps HSPA+ service in 47 more markets
. That brings their 42Mbps total to 102 cities. Unfortunately, those speeds can only be harnessed by the Rocket 3.0 USB modem.
But the
Rocket 3.0
can reach some impressive speeds, with an average download rate of 10Mbps with peaks around 27Mbps. Here's the list of new cities on the HSPA+ 42 roster:
Akron, OH; Albuquerque, NM; Allentown-Bethlehem, PA; Brownsville, TX; Cape Coral, FL; Canton, OH; Charleston-North Charleston, SC; Cleveland, OH; Colorado Springs, CO; Columbia, SC; Columbus, OH; Corpus Christi, TX; Fayetville, NC; Florence, SC; Fresno, CA; Harrisburg-Carlisle, PA; Hickory-Lenoir-Morgantown, NC; Killeen, TX; Lakeland, FL; Lancaster, PA; Las Cruces, NM; Madera, CA; McAllen, TX; Merced, CA; Myrtle Beach-Conway-North Myrtle Beach, SC; Napa, CA; Palm Bay, FL; Palm Coast, FL; Panama City, FL; Pueblo, CO; Reading, PA; Riverside-San Bernadino-Ontario, CA; Sacramento-Arden-Arcade-Roseville, CA; Salt Lake City, UT; San Antonio, TX; San Diego-Carlsbad-San Marcos, CA; Santa Barbara-Santa Maria-Goleta, CA; Santa Fe, NM; Sarasota, FL; Scranton-Wilkes-Barre, PA; Sebastian, FL; State College, PA; Virginia Beach-Norfolk-Newport News, VA; Wilmington, NC; Visalia-Porterville, CA; Waco, TX; and York-Hanover, PA.
source: T-Mobile