T-Mobile explains why it is offering the Apple iPhone cable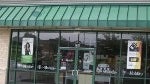 How single-minded are cell phone fanatics? Despite the success of the Android OS which has so much momentum behind it, and has taken some market share from the Apple iPhone, seeing a T-Mobile branded box with a proprietary 30 pin connector for the iPhone inside was enough to spur a rumor that the nation's fourth largest carrier was on the verge of getting the Apple iPhone, as we
reported
.
Yes, even after launching a very strong Android handset that matches Apple's touchscreen unit feature for feature (including a front facing camera) and has become T-Mobile's new flagship phone, everybody wants to know about the Apple iPhone, not the T-Mobile myTouch 4G. And the sad thing is that the carrier felt compelled to offer a reason why it is selling this 30 pin connector in the first place.
In an internal communication with employees, the carrier said that it would start offering the Apple iPhone/iPod sync cables Tuesday at select stores for a price of $14.99 in response to "requests for a charging solution for customers who may be using an unlocked iPhone or traveling from outside the United States and using an iPhone while roaming on our network." The explanation continued, "The iPod/iPhone cable also makes a companion product for our micro USB charging solutions. The cable can be plugged into the USB port of the universal micro USB car, wall or two-in-one chargers to provide customers with a charging solution for their iPod when they are on the go."
The most interesting part of the explanation was how T-Mobile ended it. The mobile operator wrote, "NOTE: Stocking the iPod/iPhone data cable does not mean that T-Mobile is receiving the iPhone." Shame that the carrier launches a device like the T-Mobile myTouch 4G and all anyone wants to know about is the Apple iPhone.
source:
TmoNews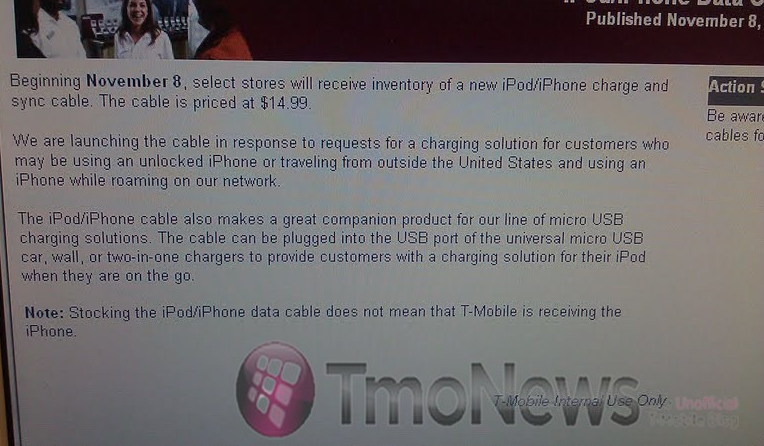 T-Mobile tells employees the reason why certain stores are offering proprietary cables for the Apple iPhone/iPod