Symbian's Horizon App Store now Open for Business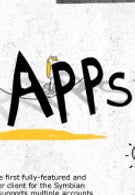 With all of the app stores out there, it was time for the Symbian platform to be represented as well. After all, Windows Marketplace for Mobile has just switched on the lights as part of the launch of Windows Mobile 6.5. And now the OS with the largest marketshare world wide has put out the 'Open' sign with the launching of the Horizon app store. Announced during the Symbian Exchange and Exposition 2009 show, the first 50 apps are now available including YouTube and Twitter. The plan is "to process thousands of applications in 2010."
Some of the handset manufacturers that use the Symbian OS already offer their own app store like Nokia's Ovi, Samsung's Application Store and PlayNow from Sony Ericsson. Offerings from the Horizon app store will be integrated into those three app stores as well as ones belonging to China Mobile (Mobile Market) and AT&T (Media Mall). The iPhone App Store has about a 100,000 app lead over Horizon, so there is a long way to go before the Symbian platform catches up, if they even can. But being the number one OS in use might help Horizon gain some ground with the iPhone.
source:
TrustedReviews