Android version of the SwiftKey app receives an update; new toolbar quickly finds GIFs and stickers
6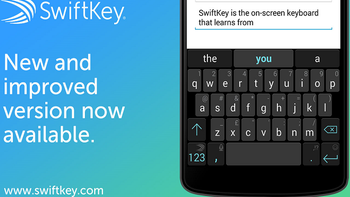 One of the most popular apps of all time is SwiftKey, which offers third-party QWERTY keyboards to iOS and Android users.
The company was purchased by Microsoft for $250 million
back in 2016, and the app allows users to replace the stock QWERTY on their handset with SwiftKey's customizable keyboard. Yes, this is a free app that according to the company, is employed by more than 250 million people worldwide.
SwiftKey for Android has just received an update to version 7.0. One of the new features is a toolbar that allows users to quickly call up stickers and GIFs. It even allows subscribers to use their own pictures to create stickers. The changelist reads as follows:
Introducing Toolbar, a new way to get faster and easier access to your favorite SwiftKey features. Just tap the "+" on the left of the prediction bar to give it a try.
Use & make your own stickers directly within SwiftKey.
We've added new languages: Ayizo, Aymara, Bariba, Bavarian, Bicolano Central, Ilocano, Kapampangan, Kirundi, Latin, Lombard, Mam, Miskito, Nahuatl, Pangasinan, Tongan, Tulu, Upper Sorbian, Yucatec Maya.
Not happy with the default QWERTY on your iOS or Android phone? Why not give SwiftKey a try. And it won't cost you a penny to use it. To install the app on your phone, click on the appropriate link. (
iOS
|
Android
)
source:
@h0x0d