Microsoft buys SwiftKey, maker of the famous Android and iOS keyboard, for $250 million
36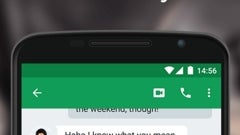 While Windows Phone is barely relevant in today's smartphone market, Microsoft has found another way to reach mobile users around the world: via apps. The Redmond company already launched many apps of its own on Android and iOS, and it's now adding another (quite important) application to its portfolio:
SwiftKey
.
In case you don't know, SwiftKey is a software keyboard for Android and iOS, and it's extremely popular: at the moment, it's installed on about 300 million devices (Android and iOS combined). According to The Financial Times, Microsoft is paying $250 million for the company behind SwiftKey. Reportedly, the deal will be officially announced later this week.
Microsoft already has a software keyboard (
Word Flow
), which is available on Windows Phone devices, and will soon be released on iOS and Android. Needless to say, the acquisition of SwiftKey will help Microsoft improve its keyboard game (if we may put it this way). However, Microsoft is likely purchasing SwiftKey for its artificial intelligence technology, rather than the keyboard app. SwiftKey relies on artificial intelligence to learn how users type on their mobile devices, thus being able to predict future words.
SwiftKey Keyboard was a paid app until 2014, when it became free (but introduced in-app purchases, allowing users to buy themes and other personalized content).
SwiftKey also developed an Android launcher
, though this one has failed to gain popularity, and isn't as appreciated as the keyboard.
source:
Financial Times
(subscription required)