Get Super Mario Run for half price starting on Mario Day (March 10th)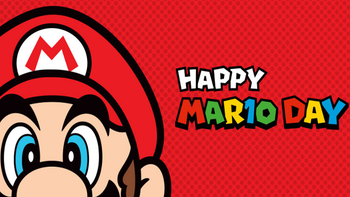 Did you know that Mario Day is coming? The little Italian plumber who actually debuted with the launch of the Donkey Kong arcade game in July 1981, has now become an iconic video game character. And every March 10th, we celebrate his existence. Why March 10th? Because the date can be written as MAR10 which sort of spells out his name. And starting on Mario Day, mobile game players can take 50% off the price of the Super Mario Run app.
To refresh your memory, the app is free to download on your iOS or Android handsets. But the portion of the game that comes with no cost will most likely not satisfy any accomplished mobile game player worth his or her salt. To gain access to the full Super Mario Run game normally would cost you $9.99. With the half-off deal, the cost of the app will be $4.99. The discount runs through March 25th.
Both the iOS and Android versions of the app were recently updated to include shorter courses, a new character you can control, and the ability to listen to some music while you play the game. If you've never installed Super Mario Run on your mobile device platform, all you need to do is click on the appropriate link (
iOS
|
Android
).
source:
SuperMarioRun