Study suggests that tablet owners spend 50% more than smartphone owners on retail purchases
0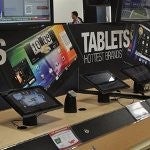 Just when we all thought that smartphone owners were perceived to be the gun-slinging cowboys in our digital age, it's actually tablet owners that are calling the shots in regards to retail spending. There's no arguing that there's a lot of money to be made when it comes to outfitting our devices with complementary things, like accessories or apps, but one thing's certain – and that's tablet owners
spend a whole lot more money
.
According to a new study published by
Adobe Digital Marketing Insights
, they find that tablet owners spend approximately
50 percent
more per purchase than smartphone owners when it comes to making retail purchases. And when you compare them to PC users, they spend over
20 percent
more than them, which is still a sizable tally.
Breaking down the numbers, the study finds that tablet owners spend an average of
$123
, whereas smartphone and PC users spend $80 and $102 respectively for retail purchases last year. Honestly, it's hard to say why tablet users spend so much, but it goes to show that there's a good market around it. Maybe it's some unseen force that compels tablet owners to click that buy button, which as we all know, is one very hard thing to resist. However, the study also finds that tablet users are
three times
more likely to make a purchase online over smartphone users.
source:
Fast Company
via
BGR