Steve Ballmer to WSJ, "I'm an emblem of an old era."
19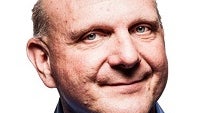 He may have been CEO at Microsoft for "only" 13 years, but he has been in the middle of things at the company for over 30 years. Interestingly, Mr. Ballmer admits that the recent shake up in management, created in part by him, is the primary reason why he must leave the company.
"As much as I love everything about what I'm doing, the best way for Microsoft to enter a new era is a new leader who will accelerate change," according to the CEO who will be stepping down in the future. "Maybe I'm an emblem of an old era, and I have to move on,"
Despite Microsoft's great success since he became CEO in 2000, it is no secret that the company missed the opportune moments to capitalize in areas like smartphones, tablets and wearable technology. For Mr. Ballmer, his moment of clarity occurred while on a trip to London this past May, even with all the change he was pushing through, he realized that Microsoft would be able to change faster without him. "At the end of the day, we need to break a pattern. Face it: I'm a pattern."
Following that epiphany, Mr. Ballmer starting drafting various retirement letters, eventually producing 40 or so variants of a good-bye message that ranged in tone (apathetic to Xbox?). He then secretly told Microsoft's General Counsel, Brad Smith, that it might be time to depart. Mr. Ballmer then contacted board member John Thompson who then communicated with other board members.
The board of directors had no problem with Steve Ballmer per se, only with which the speed he was affecting the change for the company's new strategy. To that point, Mr. Ballmer noted that he was going as fast as he knew how, but in the end, all angles eventually find themselves resistant to change, "No matter how fast I want to change, there will be some hesitation from all constituents—employees, directors, investors, partners, vendors, customers, you name it—to believe I'm serious about it, maybe even myself."
In June, he posed his retirement to the board which accepted the proposal. That was followed by a meeting with Bill Gates and John Thompson in August to iron out details, the meeting lasted less than an hour. It is said that Mr. Gates supported Mr. Ballmer's departure only as long as it ensured Microsoft "remains successful."
When he broke the news of his pending departure from Microsoft to his family, they all cried. As for next steps in Mr. Ballmer's life, he is fielding offers from universities to possibly coaching his youngest son's high-school basketball team.
source:
The Wall Street Journal
(subscription required)