Steam Link and Steam Video coming soon to Android and iOS
3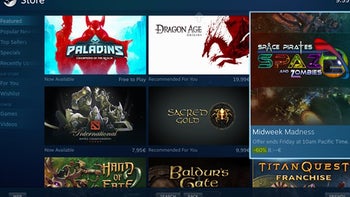 Valve, owner the biggest store of digital PC games, has just announced two new apps that will be launched on Android and iOS – Steam Link and Steam Video. Both will be available in the Google Play Store and App Store in the coming weeks and have been specially designed to provide Valve's Steam services and accessibility on Android.
Steam Link app has been confirmed to arrive on Android and iOS in the week of May 21. The app will allow users to play they Steam
library of games
on their Android (phone, tablet, TV) and iOS (Mac or PC) devices. However, your device must be connected via a 5GHz network or wired Ethernet to a host system (Mac or PC).
Furthermore, the Android version of the app will be offered in beta, but Steam Link will feature support for the Steam Controller, MFI controllers, and more across both platforms.
The Steam Video app will be released later this summer and it's meant to allow users to enjoy thousands of movies and shows available on
Steam
directly via their Android and iOS devices over Wi-Fi or LTE. On to of that, the app will come with offline support and streaming modes.