Starbucks and McDonald's could introduce mobile orders this year
2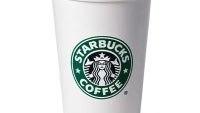 Famous coffee chain Starbucks announceda new mobile feature that's being worked on - mobile orders. Topromote its mobile application, Starbucks is testing a service thatwill let you pre-order coffee and food while standing in the line, orbefore you actually get to certain cafes in the USA. The companyisn't revealing any details right now, but admits that mobileordering is something its customers have been asking for. The featureis planned for release this year.
Next Wednesday, Starbucks will addbarista tipping and shake-to-pay functionalities to its iPhone app.As more than 11% of customer payments are handled with smartphones,the company is seeking new ways to respond to the opportunity.
Allegedly, McDonald's is also workingon ordering and payment functionality for its own app, while otherfood and coffee chains like Dunkin' Donuts are exploring customerreward programs for their mobile outlets. As a whole, it appears theunexpectedly close relationship between food and smartphones, whichbegan with Instagram, will escalate to new highs in the near future.
source: Bloombergvia Pocket-Lint