Sprint announces Network Vision - a $5 billion project to overhaul its network
0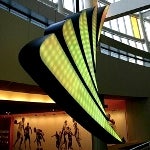 Sprint announced today that it will be spending around $5 billion to overhaul its network in the next few years, calling the project "Network Vision". The upcoming improvements aim to increase the CDMA-EVDO voice and data performance, reduce operating costs, improve building penetration, roll WiMAX quicker, and lower the carrier's carbon footprint.
Sprint entered partnerships with Alcatel-Lucent, Ericsson, and Samsung to provide new base stations that will replace its older technology. Currently the carrier uses separate gear for the 800MHz, 1900MHz, and 2.5GHz spectrum bands. With the new equipment Sprint will handle all spectrum bands from a single base station. Besides the economies of scale, switching between bands with it will be faster and more coordinated, allowing for
quicker expansion
of the Clearwire-provided WiMAX network that operates on the 2.5GHz spectrum.
Sprint's Push-to-Talk service that the carrier acquired with the purchase of Nextel, will move entirely to CDMA on the 800MHz band, and afterwards the iDEN network will be gradually phased out, starting in 2013. According to Steve Elfman, the president of Network Operations & Wholesale at Sprint, "We're seeing an increasing need from our push-to-talk customers for high-speed data capabilities. Marrying the industry's only sub-second PTT call setup with broadband data directly supports our customers' needs and creates an unmatched offering in the market. Additionally, we fully expect a competitively priced lineup of
rugged handsets and smartphones on the CDMA network
."
Network Vision is currently in the project planning phase, and the base station upgrades will start happening in early 2011. Sprint also listed some of the cities that the project will commence with. Alcatel will take care of the gear needed in New York City, Philadelphia, Boston, Washington, D.C./Baltimore and Los Angeles. Ericsson takes Atlanta, Miami, Houston, Kansas City and Dallas, while Samsung will be in charge with the Network Vision deployment in Chicago, Denver, Pittsburgh, San Francisco and Seattle.
source: Sprint