Spotlight: Dactyl for Android lets you easily take pictures by simply touching your fingerprint sensor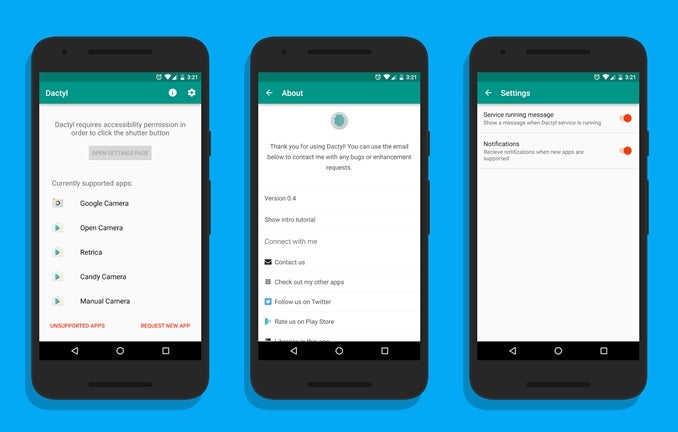 Developer:

Nick Yelito

Download:

Android

Category:

Photography

Price:

$1.99
Have you ever ruined a potentially perfect selfie by suddenly trembling of your fingers in the last moment? Oh, your autoportrait was spoiled by the slight movement of the phone when you used the volume down button to take the picture? We know the struggle, and we are certain that's an issue many folks might have, especially with larger phones.
In case your phone has a fingerprint scanner (chances are that you have), you should know that there's an Android app that works with most of the popular photography-related apps and will let you take selfies by simply touching your fingerprint sensor. No more blurred selfies, no more button clicking, no more finger-stretching.
Called Dactyl - Fingerprint Camera, it supports the following photography apps: Open Camera, Google Camera, Retrica, Candy Camera, Manual Camera, BestMe Selfie Camera, YouCam Perfect, Sweet Selfie, Selfie Camera, InstaBeauty, Camera Super Pixel, Snap Camera HDR, Z Camera, KiwiCamera, LINE Camera, Selfie City, Snap Camera Trial, Google Camera X, Footej Camera, InstaWeather, Camera 360, CyanogenMod Snap, WhatsApp, Facebook Messenger, Prisma, Focal, Snapchat (Nougat Only), Camera FV-5 (Nougat Only), Instagram (Nougat Only), VSCO (Nougat Only), A Better Camera (Nougat Only), Scanbot, Google Allo, and Kik (Nougat Only).
Dactyl is dead-easy to setup and use: after you install it, you need to allow it through your phone's accessibility settings... and that's pretty much it! Next time you open up your camera app of choice. Have in mind that you will be able to use Dactyl in certain apps only if you're running Android 7.0 Nougat.