Space Marshals 2 arrives guns blazing on the App Store a day ahead of schedule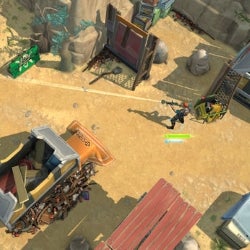 Space Marshals 2, the sequel to the popular shooting game, is out now on iOS, a day ahead of schedule. The game is a top-down shooter where you play as Burton, an intergallactic marshal battling space baddies.
Unlike typical shooter games that have you raining bullets over everything in sight, Space Marshals 2 expects you to employ some strategy by using stealth and approaching enemies with specific tactics. You also have to manage your inventory carefully, as the correct line-up of weapons and armor can be the difference between successful and unsuccessful missions.
You'll also get to use the environment to your advantage, dodging attacks by taking cove and flanking enemies for extra efficiency. Employ tools of the trade, such as frag grenades, flash bangs, drones, gun turrets, proximity mines, and other deadly gadgets to overpower rivals
Featuring stylish 3D visuals enhanced with the Metal API, the game offers 20 missions with performance based rewards, over 70 different weapons, and multiple factions to fight or pitch against each other.
Space Marshals 2 costs $5.99 and can be picked up from the App Store right now.