South Korean technological alliances anxious about Microsoft's Nokia acquisition
49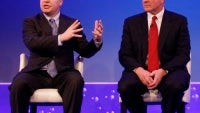 Microsoft's Nokia acquistion hassparked concerns among the associations of South Korean technologicalmanufacturers about possible opportunities for patent abuse. As thetwo companies are undergoing business combination reviews in thecountry under supervision by the Fair Trade Commission, localmanufacturers have petitioned the bureau about the possibleconsequences of the merger. Reportedly, they fear that Microsoftcould utilize Nokia's large patent portfolio in anti-competitivepractices.
This sounds quite ambiguous, asMicrosoft doesn't actually own Nokia's patents - it has only licensedthem for use in products. Likewise, Korean firms fear that Nokia hasthe ability to use MS' mobile patents to sue or demand increasedroyalties from Korean firms if it chooses to do so. Or in otherwords, to become a "patent troll". Again, this seemsunjustified, as the company only has "reciprocal rights" to useMicrosoft patents in its HERE services.
Earlier this year, Nokia's CTO HenryTirri explained that after handing over its mobile business toMicrosoft, the company will turn its focus to technological research,development, and patent licensing. Nokia has one of the largestcommunication portfolios in the industry and it's understandable thatit will be looking to turn it into a revenue source. It seemsthat the company's new patent-centric business is making Asianmanufacturers feel uneasy about its presence. However, Tirri insiststhat Nokia will not become a patent troll, but it will follow otherlicensing companies' good business practices.
Nokia's Microsoft acquisition hasalready been approved in the USA, Europe, and India, but it's yet toget an "yes" from Korean and Chinese authorities.
sources: BusinessKorea, NokiaPower User