Sony's beta Android firmware for the Xperia Z3 leaks online, download links available
16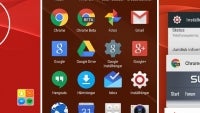 Over in Sweden, where its R&D department is located, Sony recently started
beta-testing a new take on Android
on 500 hundred Xperia Z3 users located in the country. Not long since the beta started, a series of
screenshots leaked online
, revealing a near-stock user interface. If the new Sony implementation made you curious enough, you might be happy to learn that the firmware was leaked by an XDA member and is now available for download.
Installing the new
Sony Xperia Z3
firmware requires you to jump through a few hoops, but with the help of Androxyde's Flashtool, you'll be rocking the beta software in a flash. Note that the install process will delete all of your data, so make sure to perform a full backup before proceeding. Head over to the source link below for the installation steps.
According to the XDA member who leaked the firmware, the build is stable, but if you ever want to revert back to the official build, you can always flash one from Sony's official website.
In its current version, the beta firmware doesn't seem to come with too many enhancements compared to the open source version of Android (AOSP), although we're unable to tell what's actually going on under the hood. At the moment, the build lacks traditional Sony software features such as Stamina Mode, Xperia Themes, or Screen Recording. According to one XDA member, the build also lacks other Sony tweaks such as audio and display optimisation. There's a very good chance for Sony to gradually launch new features in upcoming builds. We'll keep our eyes peeled and we'll be here to inform you of any further developments.
If you're the experimental type, make sure to drop us a comment and let us know how the leaked Sony Xperia Z3 beta firmware is treating you!