Sony QX10 and QX100 lens cameras up on Amazon for preorder
3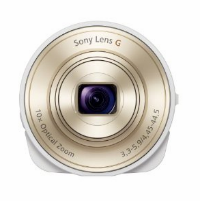 The Sony QX10 and QX100 "lens style cameras" were just
announced
, and it seems that while we were busy with the official announcement, the new products were posted on Amazon for pre-order. The device pages on Amazon actually went live a bit before Sony officially announced the cameras, but given how many other leaks there have been that's not that surprising.
Yesterday, the full
press kit
for the cameras leaked out, and today, just before the announcement, and a full
specs sheet
for the devices also leaked. So, it's not that big of a surprise that Amazon also jumped the gun, because we basically knew all there was to know. So, if you want to pre-order one of the lens cameras, the QX10 comes in either white or black for $248; and, the QX100 is only available in black for $498.
There are also carrying cases for each that come up in the Amazon search results, but the product pages are still 404. The search page lists the QX10 carrying case at $23, and the QX100 carrying case at $33. All of the products will ship on September 27th.