Pricing, details, and video leak for Sony's QX10 and QX100 "Lens-Style Cameras"
17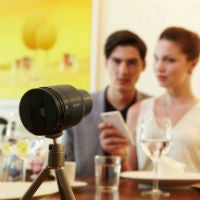 Sony has not officially announced its QX10 and QX100 "Lens-Style Cameras" yet, but we have seen various leaks on the product, and today we've gotten the biggest leak yet: the full press release for Sony's new smartphone camera accessories. As you might expect from a press release leak, we now know the pricing and details for the products.
There will be two different models available: the QX10 and QX100. The QX10 will be the lower cost option at $250. It will feature an 18.2 megapixel Exmor R CMOS sensor and 10x optical zoom Sony G lens. The QX10 will also be incredibly portable, weighing in at under 4 ounces (~113g).
The QX100 will be the premium option at $500. It will feature a high-quality 1.0 inch, 20.2 MP Exmor R CMOS sensor, which is the same sensor you would find in the Cyber-shot RX100 II camera. The sensor is known for detailed, ultra-low noise images in all types of lighting conditions, including dimly lit indoor and night scenes. The sensor has been combined with a wide-aperture Carl Zeiss Vario-Sonnar T lens with 3.6x optical zoom and a BIONZ image processor. There's no word on the size of the QX100.
Both "lens-style cameras" will connect to your smartphone through the Sony PlayMemories app, which is available for both iOS and Android. Oddly, the release says that the Android app is compatible with Android 3.0 Honeycomb and higher, but we're pretty sure that these lenses will not be able to connect to a tablet, and Honeycomb doesn't exist on phones. The app can be launched via NFC if your device can handle that.
Once the lens is hooked to your device, you can use your touchscreen as the viewfinder. Pictures will be saved to both the camera and your phone, though the release doesn't mention on-board storage for the lens-cameras, but the devices will have memory card slots.
No word on a release date, but we're sure we'll get that info soon enough.