Smartphones are picking up market share, Android still top dog, Nielsen study shows
38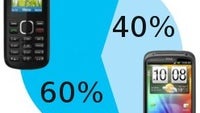 According to the latest Nielsen study that puts the U.S. cellphone market under the microscope,
four out of ten handsets across the nation fall into the smartphone category
. In comparison, smartphones held 38% of the market earlier this spring, which shows that feature phones are slowly being taken over by their smart counterparts. That, of course, is not too surprising of a result as earlier studies show that the majority of users who get themselves a new handset go for a smartphone rather than a feature phone.
Furthermore,
40% out of all U.S. smartphone users own an Android device
, which is a percent up when compared to the results from the
previous Nielsen survey
. The iPhone's market share, however, remains unchanged standing at 28%, but the upcoming release of the iPhone 5 might give that number a boost. RIM and its BlackBerry smartphones, on the other hand, seem to be losing grip on the market as their share has slightly declined and now stands at 19%. Microsoft's Windows Mobile platform still has a lot of catching up to do as it still holds only 1% of the pie.
Besides being the most widespread mobile platform, Android holds a leading place in yet another category. From innovators to late adopters, the majority of smartphone users who intend to get a new device next year say that it is going to run Android. Apple's iPhone, however, is not far behind in terms of desirability and it even holds the lead in that category among early adopters.
So, which team do you favor? Are you a loyal iPhone fan, an Android enthusiast, or a BlackBerry aficionado? Feel free to let us know by dropping a comment in the section below.