Nielsen's June data pegs Android on 39% of US smartphones, iOS holds 28%
73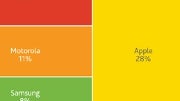 Nielsen came up today with one of its nifty block diagrams that show the market share of each mobile operating system and manufacturer in easy to understand visuals.
Since the data is from June, this is as fresh as it gets before this month is over. Android now holds close to 40% of the smartphone market in the US, while iOS keeps 28%, BlackBerry 20%, and Microsoft's mobile operating systems have about 8%. Trailing behind are HP with its webOS offerings, and Nokia's Symbian with 2% each.
What's interesting is that HTC holds the lead in both Android, and Windows Phones, which comes to show how important is the US market for its well-being, and that the negative effect of an unfavorable ITC ruling in the
patent wars with Apple
will prove significant.
Nielsen also found out in a separate study that the majority of new phone purchases in the US are smartphones, so this diagram below will be becoming more and more representative for the whole US cell phone market in the future.
source:
Nielsen
via
AllThingsD