Skype 2.6 for Android adds sending photos and video
0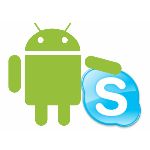 Skype for Android has been updated to version 2.6 which adding and polishing a number of features. This update comes just a bit over two months since Skype 2.5 hit the Android Market.
The biggest addition in this update is the ability to now send photos or video to your Skype contacts, you know, just in case your relatives have Skype, but not e-mail. It's certainly a nice addition, and makes things a bit more efficient, but it's not a killer feature by any means. Just a matter of making Skype more fully functional really.
If you don't have Skype or want to update, it's available for free in the
Android Market
.