Sharp teams up with Foxconn, sells it 50% stake in the Sakai LCD plant
0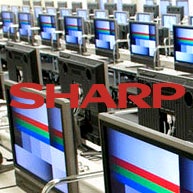 Next in the string of
restructurings and strategy changes
that is shaking the embattled Japanese electronics industry, Sharp today announced that it will partner with Hon Hai Precision, the parent company of the
infamous Foxconn assemblyman
.
This will allow Sharp not only to produce stuff cheaper and speed up the time to market of its gadgets, which include the svelte
Sharp Aquos Android phone family
, among many others, but also to offload some of its stake in the Sakai LCD plant.
Hon Hai will buy half of Sharp's 93% stake in the plant (the rest is held by Sony). Sharp is the largest Japanese producer of LCDs, but
the new iPad screens it supplies
are likely coming from its state-of-the-art Kameyama plant. Still, Foxconn got itself half of a well-equipped facility for producing modern LCD displays, so the company might be venturing out of its assembly-only business model.