Foxconn won't sue anyone over Mike Daisey's "partially falsified" reports on working conditions in its factories
2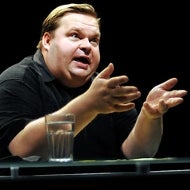 Foxconn issued a statement this morning that it doesn't intend to sue anybody over
Mike Daisey's "partially falsified" reports
over working conditions in its factories.
The company did say via its spokesman, however, that such stories are hurting its image: "
Our client is Apple Inc... Our corporate image has been totally ruined. The point is whatever media that cited the program should not have reported it without confirming (with us). We have no plans to take legal action... We hope nothing similar will happen again
".
As for Mr Daisey himself, he said in a nutshell that Foxconn's representation in his
one man show "The Agony and Ecstasy of Steve Jobs"
has been "theatrical" (read: blown out of proportion) and this has spilled over to the monologue in the radio show This American Life.