Kaz Hirai announces "One Sony" initiative for uniform user experience across all company electronics
8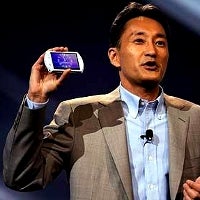 Kazuo "Kaz" Hirai
recently became Sony's CEO
coming from the PlayStation division that was the only bright spot in a long tunnel of bad decisions for the company. He is not wasting any time restructuring according to his own vision either, announcing today the so-called "One Sony" initiative.
The goal is to streamline the firm's portfolio of consumer electronics, focus on the three profitable pillars - digital imaging, gaming and
mobile
- and introduce a uniform UX (user experience) across the board.
Does that mean we are about to see the same interface on Sony's 3D TV that is on the lowly
Xperia sola
? Probably, as Mr Hirai appointed the SVP Kunimasa Suzuki as Officer in charge of the UX, Product Strategy and Creative Platform, "
with the aim of strengthening horizontal integration
and enhancing the user experience across Sony's entire product and network service lineup. He will also oversee the mobile business that Sony has identified as one of its core
electronics business areas, including smart phones, tablets and PCs.
"
There will also be a renewed focus on R&D, fasttracking the best ideas from the labs to the product, and chopping off the excessive projects. If it all results in svelte ideas like the
WhiteMagic display on the Xperia P
, or the
Floating Touch tech on the Xperia sola
, and seamless communication among Sony phones, tablets and laptops, we are all for the "One Sony" initiative.