Sharp continues Galapagos line with 7-inch Honeycomb Media Tablet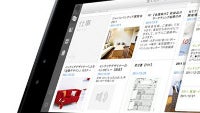 Sharp's Galapagos
e-readers haven't exactly flourished – the company ditched the 5.5-inch and 10.8-inch readers shortening their lifespan to under a year, but now, it's back in the game this time with a tablet – the 7-inch Sharp Media Tablet stands out mostly with its support for WiMAX. The slate runs on Android Honeycomb, but we hope it'd get bumped up to Android 4.0 Ice Cream Sandwich soon after launch.
The
Media Tablet
sports a nearly standard hardware kit – a dual-core Tegra 2 processor, 1 gig of RAM and 8GB storage, all working on making the best of Honeycomb on the 7-inch LCD display with a resolution of 1024x600 pixels. On the back, there's a 5-megapixel camera, while up front a 2-megapixel snapper seems like a valuable addition for video conferencing.
Of course, the focus falls on
WiMAX
– a technology which is being slowly phased out in the States on Sprint, but is still popular in Japan. Local carrier UQ promises speeds of up to 40Mpbs on the downstream, which is quite an achievement.
Sharp's Galapagos store serves to fuel the tablet with content, offering 40,000 newspapers, magazines and books. It's also tightly
integrated with Sharp's TV lineup
and doubles as a remote. Now, we have no word whether this is indeed coming stateside, where there will be not so much use of the WiMAX feature, but we'll let you know as soon as we find out more. Sharp's Media Tablet is rolling out to customers on December 9th with a yet unannounced price tag.