Sennheiser CX 6.0BT wireless headphones hands-on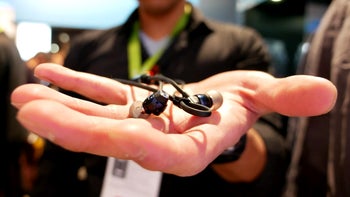 There were plenty of
new Bluetooth headphones announced at CES
, with the most glamorous offering long hours of listening of the truly wireless kind, costing upwards of $150. Enter Sennheiser, with their CX 6.0BT gear that is much less, and comes with the audio brand name recognition.
Not truly cordless, but still Bluetooth-y, these new Sennheisers come with a lower, $100 price tag, than their completely untangled competitors unveiled at CES. True to the teen trends, the renowned audio gear maker has tuned the CX 6.0BT to provide not only its signature clean and expressive sound, but also thumping bass for all that hip-hop streaming coming to your ears.
As far as looks go, the design didn't struck us as anything extraordinary, and it was apparent that Sennheiser hasn't put all of its efforts in it. They are extremely lightweight, though, so light, that we thought them to be perfect for users on the go, or on the run.
The beauty of corded earbuds is that they usually outlive their truly wireless brethren on a charge, and the Sennheiser CX 6.0BT is no exception, offering 6 full hours of playback before you plug them in for 10 minutes to get extra two hours - yes, they call it quick charging for a reason. We didn't get a chance to try out the noise isolation or audio quality of said powerful bass, but we'll know more when we get them on shelves later this month.