Score a $300 gift card from Target with the purchase of an iPhone 7 with monthly payments
3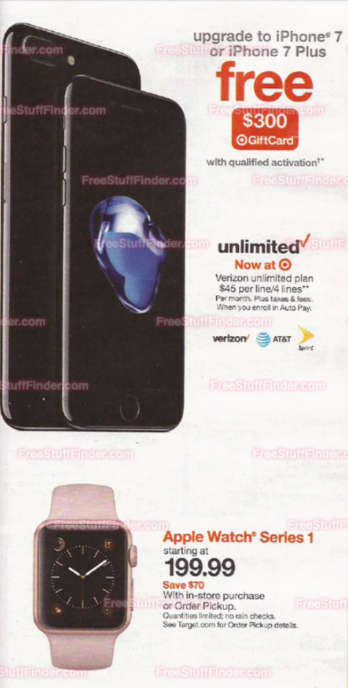 Starting on March 26th, get a $300 Target gift card with an iPhone 7 or iPhone 7 Plus purchase
One of our loyal PhoneArena readers has sent us some information pertaining to a special deal taking place at Target (or Tar-Jay for those in the higher tax brackets). From March 26th to April 1st, those purchasing an
Apple iPhone 7
or
Apple iPhone 7 Plus
at Target using a monthly device financing plan, will receive a $300 gift card from the retailer. The handsets are available to subscribers of Verizon, AT&T and Sprint.
According to a newspaper ad that will be used to promote the deal, Target will also be running a sale on the Apple Watch Series 1. Starting at $199.99, Apple's intelligent timepiece will be offered inside Target stores at prices starting as low as $199.99 That is a $70 or 35% savings from the regular price Target asks for the watch.
If you're in the market for the Apple iPhone 7 or Apple iPhone 7 Plus, try to hold off making your purchase until this coming Sunday. By waiting until March 26th, you can not only pick up the new iPhone you want, you will also be in line to receive a $300 Target gift card. Surely that is enough of a incentive to delay your purchase until the deal starts. Just remember that it expires after seven days, so don't delay.
Thanks for sending this in!