Samsung's smartphone sales share nosedives to new lows in Q4, Apple picks up the slack
72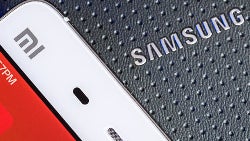 Research firm Strategy Analytics is ready with its end smartphone sales report for the last quarter, and things aren't looking pretty for Samsung, on account of the
Apple iPhone 6
and
6 Plus
crusade, as well as the
Chinese smartphones riseup
.
It turns out that Samsung's share of the world's smartphone market sales dipped to just 10% in the previous quarter. Yes, you read that right, just one in 10 smartphones sold in Q4 were Samsung ones, according to Strategy Analytics, regardless of the company's numerous lines and models. Apple, on the other hand, accounted for 48.9% of all smartphones then.
When it comes to revenue, Samsung still did fine, though - flying high on the
Note 4
sales, it hauled home 17%, but Apple took the lion's share of the rest. Samsung hasn't seen a smartphone market share this low since the end of 2011, when the iPhone 4s was introduced. By the time the Galaxy S3 was outed in 2013, though, Samsung Electronics got almost breathing down Apple's neck with 34.1% of the global sales, against 34.2% for the Cupertino team.

For the whole 2014, Apple outpaced Samsung again with 37.6% versus 25.1%, and both left LG as a distant third with its 4.3%, followed by Huawei with 3.8 percent, Sony with 3.7 percent, and Xiaomi with 3.3 percent. Samsung's slump is expected to halt this year, buoyed by the expectations for success of the Galaxy S6, whose announcement is just a few days away.