Samsung slumps, China bumps: see the astonishing rise of Xiaomi, Huawei & Co in global phone sales
69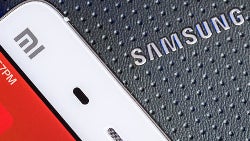 Samsung is the biggest market share loser in the last two years, a new report shows, mostly on account of the ascend that Chinese companies staged. Firms like
Xiaomi
, Huawei, Lenovo, ZTE, and even the relatively unknown Coolpad or TCL, are grabbing ever-increasing pieces of the pie, but, since the smartphone sales pie itself is getting larger, the impact on the big boys hasn't been that pronounced.
As you can see from the table below, Samsung is still top dog, but its market share has slumped from a 32.5% peak in 2013, when the
Galaxy S4
was ruling supreme, to 28% last year, with projections for a further decline to 26.6% in this one. The second biggest phone maker Apple has mostly kept its piece of the cake constant, and is expected to do so in 2015, too. LG has done well, increasing its market share from 4.3% in 2013, to the projected 6.1% this year, while Sony marks a downturn, from 4.1% to 3.1%.
Now, we arrive to the Chinese phone makers. The relatively unknown Xiaomi used to be lumped in the "Others" category just in 2013, while this year it is projected to be the world's fifth, and maybe even fourth maker. Huawei is also doing pretty well, raising its market share about two percentage points in the span of two years. Lenovo's Motorola acquisition quickly catapulted it to third place with a 7.4% market share forecast for the year, and, overall, the ascend can only be attributable to the Chinese phone makers getting stronger, with Samsung getting weaker.
Well, that's market forces at work for you, and we can't wait to see what Samsung's answer will be this year with the
Galaxy S6
, as the company is so powerful, that this table might be rearranged pretty quickly if the S6 launch proves successful.