Samsung allegedly starts work on Android 7.0 Nougat updates for the Note 5, Galaxy Tab S2
6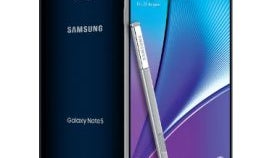 According to Samsung-centric tech blog Sammobile, the world's largest smartphone manufacturer has started developing the Android 7.0 Nougat update for the
Galaxy Note 5
and the
Galaxy Tab S2
.
Historically, Samsung doesn't hold the best track record when it comes to delivering timely Android updates. In recent years, however, Samsung has dramatically improved its delivery times, and all signs indicate that Samsung is not about to slack off when it comes to delivering the Android 7.0 Nougat update to its recent flagship smartphones and tablets, although not the same can be said for the company's mid-range devices.
Samsung has recently kicked off its
Android 7.0 Nougat beta
program for Galaxy S7 and Galaxy S7 edge users. Previous rumors have indicated that Samsung has also started developing the Nougat update for the
Galaxy S6
and the
Galaxy S6 edge
. In this context, it makes perfect sense for Samsung's Nougat update efforts to trickle down to older flagship devices such as the Galaxy Note 5 and the Galaxy Tab S2.
While it's good to know that Samsung is working on updating its devices to the latest Android version (which has been around for three good months now), it remains to be seen if Samsung can publish the official updates in a timely manner. Note that unofficial information suggests that not even the Galaxy S7 series will get the final Android 7.0 Nougat update by the end of the year.
An early analysis of the Android 7.0 Nougat beta update for the Galaxy S7 series reveals that Samsung is currently test-driving a new user interface. Unfortunately, however, it's too early to tell if older devices will get the new UI as well or if Samsung plans to limit its availability to the Galaxy S7 series.
If you own a Galaxy Note 5 or a Galaxy Tab S2, you might want to check out our
Android 7.0 Nougat review
to learn more about what the latest Android flavour brings to the table.