Samsung S8500 to be the first with Bluetooth 3.0 approval?
This article contains unofficial information.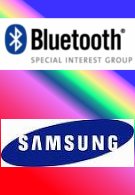 With so many next generation wireless networks on the horizon, such as the various 4G networks slowly popping up, it may overshadow the importance of the roll out of the Bluetooth 3.0 specification. There's been a breakthrough with the Bluetooth Special Interest Group approving the first consumer phone with Bluetooth 3.0 specification. There have been other devices that were approved to hit up the Bluetooth 3.0, but this is the first time for a consumer phone. According to the Bluetooth SIG's description, the Samsung S8500 will be the go to handset for this unveiling – the device itself features a 3.1" anti-reflective OLED touchscreen, TouchWiz interface, and support for quad-band GSM/
EDGE
radios. Although it makes some clear hints about the S8500, it may not be the final specs we'll see shipping out on production models. With the assumption that Bluetooth 3.0 will be present, hopefully long transfer times from one device to another will no longer be an issue.
source:
Bluetooth SIG
via
Phonescoop