Samsung Galaxy S6 and S6 edge are meeting sales targets, says executive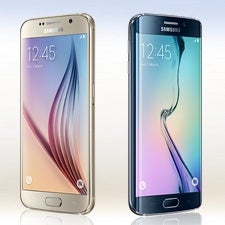 The Samsung Galaxy S6 and S6
edge
launched to a generally positive reception after being unveiled at Mobile World Congress earlier this year. Despite missing out on common Samsung perks such as removable battery and expandable storage, both handsets offer a slick, premium unibody design akin to the
iPhone 6
and the HTC One. In lieu of any concrete sales information, Samsung has implied that everything in the garden is rosy, and according to the words of an unnamed Samsung source, Galaxy S6 and S6 edge sales will be "far higher" than those of the preceding Galaxy S5.
A couple of weeks ago, Samsung supposedly revealed to the Korean media that shipments of its two main handsets hand
surpassed the 10 million mark
, which, at the time the news emerged, would have put sales behind those of the Galaxy S4 and Galaxy S5. Samsung Mobile chief J.K. Shin soon shot down claims that the S6 duo was lagging behind the models before it, and the words of another Samsung exec. (via The Korea Times) underline the notion that the latest models are doing better than their predecessors.
In a telephone interview with the publication, the official apparently said:
Sales of the S6 and S6 edge are meeting our internal target. S6 sales will clearly be higher than those of the S5. Samsung will aggressively promote sales in our target markets.
The Seoul-based source stopped short of reeling off any official figures, but with the company's investor relations forum taking place on June 3rd, we mightn't have to wait too long to find out how well, or indeed badly, these handsets have fared so far.