Samsung Galaxy S6 and S6 edge pass 10m global shipments; apparently slower than S5, S4
99+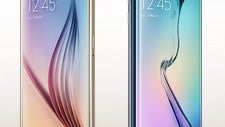 As per the coverage of South Korean media outlet
Yonhap News
, global shipments of the Galaxy S6 series smartphone have now exceeded the ten million mark. The report cites a
"high-ranking"
Samsung official, who is quoted as saying that
"the sales of the Galaxy S6 series have already surpassed 10 million,"
although notably, it is unclear how recently this feat was achieved.
In passing such a milestone, one would expect Samsung to divulge the fact at the earliest possible point. Assuming this is the case, and Samsung has only just reached 10 million devices shipped worldwide, then things appear to be slowing down compared with previous years. The Galaxy S4, for example, took a mere 27 days to reach the magical 10 million, while the Galaxy S5 got there in only 25 days, and since the Galaxy S6 and S6 edge first hit the retail market on April 10th, shipment rates look to be slacking quite severely.
It is, of course, just speculation that the Galaxy S6 line has
only just
hit the eight-figure holy grail, but if it has taken five weeks for the company to reach 10 million, then it would be an unquestionable disappointment. Since their announcement, the Galaxy S6 and S6 edge have been the subject of great reverence, with many quick to praise the aesthetic qualities and all-round performance, but if the sales aren't backing this up, then Samsung is in a spot of bother.
It's no secret that last year, Samsung had a particularly bad one, which wasn't helped by the Galaxy Note 4's arrival
after
the iPhone 6 and 6 Plus. Despite being announced prior to the launch of Apple's smartphones, the Note 4 didn't make retail until after the iPhone 6 and 6 Plus had established, and by then, the damage was already done.
In the weeks leading up to the Mobile World Congress in early March of this year, the announcement of the Galaxy S6 was the major topic of discussion, with the general consensus being that Samsung needed to make an even bigger statement than usual. To its credit, Sammy has come out fighting; the Galaxy S6 and S6 edge are two undeniably great smartphones. But with the Apple iPhone smashing sales records
quarter
after
quarter
, Samsung's figures for two brand-new handsets seem paltry by comparison, and despite the fanfare since this vaunted Android duo was unveiled, the numbers don't seem to be following suit.
Recommended Stories