Samsung Galaxy Note III photo samples spotted, a prototype device stares back at us
35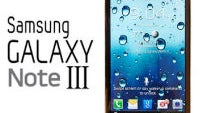 Following a trend already set by other highly anticipated devices, alleged photo samples taken with the Galaxy Note III have leaked in the wild. And this time around, they give us a rare two-in-one – the reflection of a prototype Note III is clearly visible, if only a part of it.
Of course, there's less mystery than usual, for we've already seen this particular prototype. Samsung is well known for using dummy devices to cover the actual look of upcoming smartphones. Nevertheless, we've already had quite a few indications that the device won't disregard its heritage in terms of its design.
The Samsung Galaxy Note III is expected to come in several variants, one powered by a quad-core 2.2GHz Snapdragon 800 and probably at least one another, running Samsung's Exynos 5240 octa-core chipset. The amount of RAM is pegged at 3GB, with the diagonal of the phablet measuring in at 5.7-inch according to the latest information. If you're curious to know what these mean,
the Snapdragon 800-equipped version has already paid synthetic benchmarks a visit
, smoking the competition. Launch has been suggested to take place
as early as September 4
, or about a month from now.
source: Picasa via
Techkiddy
,
SamMobile