Samsung Galaxy Nexus battery life increased, courtesy of 3800mAh battery by Seidio
19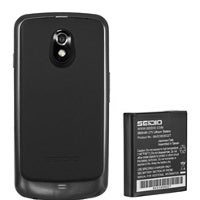 The
Samsung Galaxy Nexus
is probably the hottest Android device right now - it ships with Android 4.0 ICS and even though it's dual-core processor is eclipsed by the chips announced at MWC, you'd still need to wait for a while to get them. So if you're due for renewal, the Galaxy Nexus could possibly end up in your pocket, but with its huge 4.65-inch display comes the battery life problem.
It will probably last you through the day, but if you're on Verizon and taxing it with heavy LTE usage, you might well need a backup. Here's where Seidio's Innocell Super Extended Life
3800mAh Battery
comes in handy.
"When you can't get to an outlet, our Innocell Super Extended Life Batteries will keep you moving forward. Our Extended Life Batteries utilize premium Japanese cells to ensure the highest levels of safety and performance. Super Extended Life Batteries can offer up to 100% more battery life than your stock battery," Seidio promises.
With this you can breathe a sigh of relief as it's not only big, but it supports NFC, which most other batteries did not and that's what makes the Seidio juicer unique. Also, you can go on confident that you'll make it through the day.
The Innocell battery
will only work with the Verizon CDMA version
of the Galaxy Nexus and not the international GSM one. It costs $75 and comes with black replacement door with soft touch finish.