ST-Ericsson scores a contract to end Qualcomm's chipset exclusivity on Nokia Windows Phones
4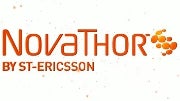 ST-Ericsson (not to be confused with Sony Ericsson) just bragged via an official press release that it has scored orders for its ARM-based NovaThor chipsets from Nokia for the Windows Phone portfolio of the Finns.
It's apparent now that Microsoft is giving Nokia more wiggle room than to other WP manufacturers, since Qualcomm was the exclusive chipset provider until now. ST-Ericsson is the other mobile silicon maker besides Qualcomm, which integrates the baseband radio in their chipsets, making for a complete SoC.
Nokia has long held a relationship with the company, whose chips are found in many handset of the world's largest phone maker by volume, so it feels like a natural extension of the partnership. Granted, this might be geared towards invading the emerging markets, especially China, where ST-Ericsson provides chips with TD-SCDMA basebands, like on the
dual-core HTC Sensation Z710t for China Mobile
, which uses ST-Ericsson's dual-core NovaThor chipset.
We are pleased to announce that Nokia has selected ST-Ericsson as a supplier for future devices it plans to introduce based on Windows Phone OS. ST-Ericsson's selection by Nokia as a key partner for Windows smartphones confirms our company strategy to be present in all segments and its capability to port all major operating systems.
Today's announcement also highlights the traction that our NovaThor platforms are beginning to get as ST-Ericsson continues to gain in the market, enabling our customers to bring great smartphones to the market.
NovaThor is offered in many flavors, including with combined LTE/HSPA+/TD-SCDMA modems, it uses ARM-Mali 400 GPU, like Samsung's Exynos, and supports the usual goodies such as 1080p video encoding and decoding, 3D imagery capture support, and
as far as we grasped from the white papers
, is more power-efficient than NVIDIA's Cortex-A9 offering, for instance. It's probably safe to assume that ST-Ericsson will be mainly powering low- to mid-range Nokia Windows Phones, most probably for Chinese market, but still, it's nice to have options.