Ringbow arrives on Kickstarter, wants to change the way we interact with devices
3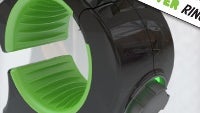 Ringbow
has hit Kickstarter with an ambitious goal of raising $100,000 and going into mass production, but what exactly is it that it's gotten so much attention so quickly? Simple, Ringbow is a new controller for your Bluetooth-enabled device, that lets your fingers remain free.
The whole idea revolves around a D-pad attached to your finger that will allow you precisely control touch games. It all connects via Bluetooth and has a 9-direction d-pad giving you full tactile feedback a touchscreen would never give.
The Ringbow fits any finger, supports Bluetooth and comes with a battery that will last you at least 5 hours without plugging the charger.
The main purpose of the Ringbow is to improve the way we interact with our devices, with the main used being gaming related, and the people behind the project have already secured some software developers to work with them on creating software enabled for the device. A $45 plegde gets you one slate-black Ringbow and a games package, and includes shipping for the US. Check out the video below that will further explain the idea and head on to the source to show your support.