Reporter claims to have seen next-gen iPad: slightly thicker, higher-res screen, little visual change
14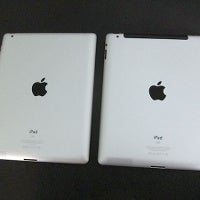 The
next-gen iPad
is a mystery we don't expect Apple will easily reveal up until the official announcement, but Jeremy Horwitz of iLounge claims to have already held one. We wouldn't be that willing to believe him if he wasn't the first one to get an early peek at the iPad 2 shell last year.
Horwitz says he saw the next-gen iPad and he could even show a picture, but there was practically no noticeable change in the visuals. The new iPad could easily go for an
iPad 2S
- it's reportedly only 1mm thicker. The camera hole is also allegedly bigger than the one on the second iPad - as big as the one on the iPhone 4S. But overall, you'd still be able to fit most of the accessories on the new iPad and that includes cases. Only those designed to tight fit the iPad 2 could have an issue working with the new Apple tablet.
It seems that, just as most reports agree on, the biggest change in the next-gen iPad will be a
better screen resolution
. Horowitz says that the screen itself should be the same size, but points out some reports have claimed that it could also be slightly smaller.
The reported finishes with a disclaimer - he mentions that the design he saw was probably a couple of months old and could well date to the middle of 2011, so changes could have been made. Here's his brief summation of the new iPad:
While it would be exciting to lead with a sensational "I touched the iPad 3!" headline, I feel obliged to mention a couple of things to put the information above in proper perspective. First, these changes are so modest that Apple could easily call this device the "iPad 2S" or "iPad 2HD" if it wanted to start the lettering game with its tablets. The screen and other major internal changes could collectively justify the "iPad 3" moniker, but we'll see.
For the whole thing, hit the source link below and don't forget to let us know your thoughts about the iPad 3 - could so little change keep Apple ahead in the waging tablet war?