Report: Samsung, Acer, Asus and Toshiba all set to release Tegra 2-powered tablets in 2011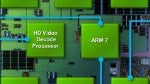 If we follow the rumours, it seems that
NVIDIA
's dual-core
Tegra 2
processor is gaining momentum as online tech media DigiTimes reports that Samsung, Acer, Asus and Toshiba, as well as local manufacturers from UK, Germany and China, are all expected to launch Tegra 2-powered tablets in 2011.
This happy bunch of future tablets joins the ranks of the
Motorola tablet
(rumoured to be called the
MotoPad
), the
Motorola Olympus
smartphone and the
LG Star
, which are all set to be powered by NVIDIA's Tegra 2 SoC (System-on-Chip).
According to this report, powerful graphics, as well as support for Adobe Flash and 3D games are making the platform more attractive than ever, with NVIDIA further helping the process by offering price discounts in order to boost its market share. This seems to be working, as it's said that the Tegra 2 chipset stands a chance to grab 50% share of all ARM-based tablets in 2011.
Just to summarize for you, the Tegra 2 processor claims to offer some goodies like 2x faster browsing, 5x faster gaming and 1080p HD video capabilities (just for demonstration, watch an LG star video
here
). We have nothing to comment on these goodies, except that we want to taste them really bad. And now.
source:
DIGITIMES