Release of the BlackBerry Torch for Bell has been pushed back to October 1st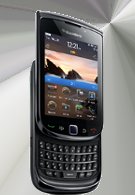 After
RIM announced some healthy results from their Q2 performance
, the Canadian company is slightly hitting the brakes on Bell's release for the upcoming BlackBerry Torch. Despite having an original announcement that the next-gen smartphone would become available starting on September 24th, it's now being positioned for launch on October 1st.
Sure there might be some people out there bummed by the delay, but it shouldn't dampen things down especially when it's only separated by a week. Plus, it might prove to be beneficial for RIM to hold out in order to have enough units on hand for its eventual launch. Plus, add in the fact that the platform is most likely still being fine tuned right now to provide the most optimal experience to the end user when it's finally available.
Regardless of whatever is the reason, the Torch should continue to aid RIM in pushing some shipments of their flagship handset – which can obviously prove to be essential for the eventual busy holiday period that we're beginning to stride into.
RIM BlackBerry Torch 9800 Specifications
|
Review
source:
Bell