RIM's BlackBerry Curve 9360 breaks cover unofficially, could be the Apollo
1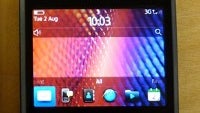 RIM had a couple of major announcements just two days ago with two new additions to its BlackBerry Torch line, but curiously enough we didn't hear anything about a new Curve. Does that mean that a new Curve doesn't exist? Quite the contrary, tech blog OneMobileRing has gotten holdo f what looks like a final or nearly final version of the
BlackBerry Curve 9360
, a successor to last year's
Curve 3G 9300
.
There are plenty of images of the new Curve 9360, but no details about particular specs – we can all see though the full QWERTY keyboard and what looks like
BB OS 7
running on the handset. Up front the screen hasn't changed in size and the optical trackpad is also there, while on the side there's a microUSB port for charging the phone. Design and dimension-wise the phone looks pretty similar to last year's Curve, but the plastic on the front actually flows to the back in the top and bottom parts, so the device's form seems defined more by the silvery side edges.
A shot from the back reveals a SIM-card slot, so it should be a GSM device and quite possibly the Apollo we've been hearing about. If so, it should launch on
T-Mobile on August 31st
as per the
carrier's leaked roadmap
, so we expect to hear an official word about it very, very soon. Has the Curve 9360 managed to somehow get your attention?