RIM BlackBerry Curve 9360 Hands-on
2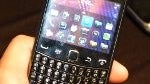 Granted that Sprint customers received the grim news that the
release of the BlackBerry Curve 9350 is being delayed
, we managed to check out its GSM cousin in the
BlackBerry Curve 9360
at Pepcom's event in New York City today.
First and foremost, there's no denying that it's part of the beloved Curve family since it sports that all too distinguishable Curve keyboard. Since it's constructed entirely out of
glossy plastic
, which has a knack for attracting smudges easily, we're hardly able to notice its presence in our hand since it's so lightweight. Of course, the feel of the QWERTY keyboard is good, but doesn't come close to the wicked responsiveness offered by the new Bold 9900's versatile layout. Still, there isn't too much that separates the handset's design from its predecessor in last year's BlackBerry Curve 3G 9330.
Thought of as being an entry-level model, we're easily reminded of that since it features a 2.44" HVGA display, 800 MHz processor, 512MB of RAM, 5-megapixel camera with LED flash, Bluetooth, microSD card slot, and Wi-Fi. However, the biggest addition is the fact that it's sporting the newer BlackBerry OS 7 experience that's been making the rounds with other Berry devices of late.