Own a Neato Botvac? You can now tell it to clean your house via Amazon Alexa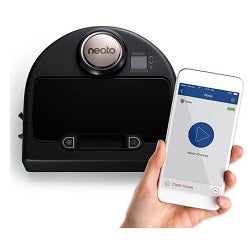 Amazon's Alexa virtual assistance is growing to be more and more powerful with every single day that passes. Alexa can be used to order a ride via Uber, check the weather, add an event to your calendar, and most recently,
access 60,000 recipes
and help you make dinner. In the most recent update to the AI, Alexa's helpfulness is moving form the cutting board to the vacuum with its new integration with Neato's Botvac.
The latest skill for Alexa allows owners of the Neato Botvac Connected to command their vacuum to clean up their house by shouting commands at devices like the Amazon Echo and Echo Dot. In order to make the magic happen, you'll need to open the Alexa app on your smartphone or tablet, choose the option that says "Smart Home" in the left-hand menu, and then tap on the "Get More Smart Home Skills" section. From here, you'll be able to search for the keyword "Neato" and then see the new skills that relate to it. With the skills enabled, you'll be able to say things like, "Alexa, ask Neato to start cleaning", and your Neato Botvac Connected will then start to vacuum your home. It's an incredibly neat idea, and should make for a great addition for anyone that's looking to immerse themselves in the smart home future.
As per the CEO of Neato Robotics, Giacomo Marini - "Neato's innovation is a huge leap forward for the smart home. Alexa-enabled Botvac Connected advances Neato's vision of the SmartLife where using the latest technology to make your life easier is the clear path to smart living." The new skill for Alexa is currently available for users in the US and the UK, and folks in Germany should have access to it before 2016 is over.
And, as a nice promotion to go along with the launch of the new skill, Neato will be offering a special bundle that will allow you to score a free Echo Dot with the purchase of a Botvac Connected.