Note 9 and the S-Pen get dissected for your viewing pleasure, Crown codename confirmed
4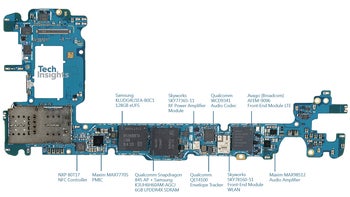 The
Note 9
has undergone a more extensive
teardown
treatment, and this time it is the Snapdragon 845 version that we have here in the US. In addition, the folks over from TechInsights, who often x-ray chips to read their maker, have managed to take apart the new S-Pen as well, revealing its uniquely connected innards.
First off, we've been hearing the Note 9 being talked about as the Crown project initially, and plenty of imprints on flex cables inside the Note 9 prove that this has indeed been the internal codename of the phablet at Samsung. Next in line is the large 4000mah battery pack with plenty of thermal isolation nesting it, as well as the large liquid cooling pipes that are Samsung's pride and joy when it comes to the Note 9
keeping it fresh under gaming pressure
.
The wireless charging coil, the finger scanner, the dual camera with variable aperture, and the breathtakingly compact system boards can all be seen in the pictures below, reiterating once again this marvel of Samsung's engineering. The S-Pen disassembly is no less pretty, with its input coils, connectivity chippery, and an incredibly slim motherboard.