Nokia introduces color, multimedia messaging for mobile professionals with Nokia 6610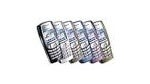 The Nokia 6610 phone combines size and tri-band functionality with a high-quality color display, Java (TM) technology and MMS
Nokia today introduced an exciting new addition to its classic phone category for mobile professionals. The Nokia 6610 phone provides compact usability with a powerful set of technology features, including a high-quality color display, Java(TM) technology for downloadable applications and MMS (Multimedia Messaging Service) capability. It is a tri-band mobile phone functioning around the globe wherever GSM/GPRS 900/1800/1900 networks are available. The Nokia 6610 is expected to start shipping in the third quarter, 2002.
"Today's professionals demand tools to help them balance their personal and work lives. The easy-to-use Nokia 6610 phone delivers a wide range of benefits. For example, Java technology enables consumers to use both the pre-installed applications in the Nokia 6610, as well as the ability to download new applications. This provides a rich user experience and lets mobile professionals take advantage of the creative ability of developers around the world," said Seppo Laukkanen, Vice President, Product Management, Nokia Mobile Phones.
The Nokia 6610 phone supports Java 2 Micro Edition (J2ME(TM)), which is specifically designed for small consumer electronics products. The Nokia 6610 Java platform is based on Mobile Information Device Profile 1.0 (MIDP 1.0), which enables application developers to create innovative and exciting applications for mobile devices. Pre-installed Java applications on the Nokia 6610 include a Converter (for currencies, temperature, weight and other measures), a Portfolio Manager (to track stocks and other securities) and Java games.
The Nokia 6610 is based on the Nokia Series 40 user interface, which is optimized for small color screens. With support for 4096 colors, the Nokia 6610 phone's high-quality color display enriches the use of Java applications, MMS and games, and is well suited for WAP browsing, calendar entry and managing contacts. The Nokia 6610 is also able to receive multimedia messages with text-, image-, and tone content. *
Polyphonic ringtones and the integrated stereo FM radio offer a high-quality sound experience for the users of the Nokia 6610. Polyphonic sounds and traditional ring tones can also be used as personal ring tones and SMS alert tones. New sounds can be received over MMS, downloaded from Club Nokia via WAP or via the Internet with Nokia PC Suite. The integrated handsfree speaker makes it possible to conduct a conference call or listen to the radio without a headset.**
With the Nokia 6610 phone, users will be able to download Java applications, polyphonic ring tones and pictures via WAP from Club Nokia. In addition, users will be able to store pictures in a personal picture zone in Club Nokia's Photo Zone and send pictures as multimedia messages from the web site.
Features of the Nokia 6610 phone include:
- Messaging: SMS, MMS
- Pre-Installed Java Applications: Converter, Portfolio Manager
- Pre-installed Java games: Puzzle Chess and Bounce
- 3 Xpress-on(TM) Inbox covers: Black, White and Grey
- 3 Xpress-on(TM) accessory covers: Burgundy, Dark Blue and Green
- Stopwatch
- Countdown timer
- Integrated handsfree speaker making it possible to listen to the radio without a headset and conduct a conference call
- Preinstalled polyphonic ring tones
- Pop-Port interface connector including: digital accessory identification, stereo audio, data connectivity and power output for accessory
- Digital clock screensaver
- Enhanced calendar
- Wallpaper
- User changeable color schemes for the display
- PC Suite
- Dimensions: 71 cc, 84 g
- Talktime: up to 2-5 hrs, standby time: up to 150-300 hrs
- Connectivity: Infrared
- WAP 1.2.1
- GPRS (Multislot class 6, Maximum 3 + 1 receive, 2 + 2 send)
- HSCSD
- GSM 900/1800/1900
**Note: the headset must be used as an antenna when listening to the FM radio via the handsfree speaker.
* MMS related services are dependent on the network as well as on the compatibility of the devices used and the content formats supported.
Source:
Nokia.com