Nokia introduced two new additions to its music line
2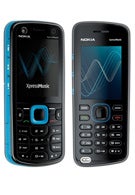 Nokia 5320
, which is a 3G-capable Symbian S60 candybar ,phone with a 2" display, having a resolution of 240x320 pixels. The phone sports a new feature called "Say&Play", which means you can play a
track by just saying its title or artist. It has a dedicated audio chip that is claimed to provide a hi-fi quality sound and up to 24 hours of music playback on a single charge. The device has a standard 3.5mm stereo jack for connecting your favorite pair of headphones and a large enough memory for storing tunes (expandable with up to 8GB microSD card). In addition, it has a 2-megapixel camera, Bluetooth 2.0 and N-Gage gaming platform with dedicated keys. The device is expected to be available in Q3 2008 with a price around €220 ($350).
Nokia 5320 XpressMusic
Specifications
The second one is
Nokia 5220
, which is a S40 device with "asymmetrical" candybar form factor. It also has a 2" 262k colors display with resolution of 240x320. The phone's audio capabilities are just like the previous one's (this means 24 hours of high quality music through the 3.5mm jack and dedicated audio chip). Unfortunately, it can't use microSDHC cards so you are limited to only 2 GB memory card. It should hit the markets in Q3 2008 with price of €160 ($255).
Nokia 5220 XpressMusic
Specifications
Both devices are compatible with the recently launched Nokia Music Store, which is a catalog with more than 2 million tracks.
source:
Nokia