Nokia Lumia 920 accessory adds 12x optical zoom to the PureView camera
22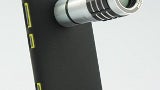 If that 8MP PureView Phase II camera on the Lumia 920 just doesn't cut it for you, then it means you have unrealistic expectations towards smartphones. Nevertheless, there is now a unique accessory that will allow you to achieve something far more extraordinary than what the Lumia 920's camera was meant to be.
Fellow shutterbugs, allow us to present to you this... case, which is much more than a simple case, because it also features a 12x telephoto lens and even a small tripod to exterminate those unpleasant shakes. In order to use this intriguing accessory, you simply have to insert the phone into the case, and you're ready to go! Who said you can't use optical zoom with your 920? Those 808 PureView fanboys laughed at you when you said you want a real smartphone, but who'll be laughing now?!
All joking aside, if you actually happen to be such a shameless enthusiast, it might be useful for you to know that the accessory is fairly cheap at $31.99. So, who's buying it?
source:
Amazon
via
WMPoweruser